H

e violated his oath of office
:
... [From the LA Times]: "Just after midnight Saturday morning, authorities descended on the Cerritos home of the man believed to be the filmmaker behind the anti-Muslim movie that has sparked protests and rioting in the Muslim world."

When taking office, the President does not swear to create jobs. He does not swear to "grow the economy." He does not swear to institute "fairness." The only oath the President takes is this one:


I do solemnly swear (or affirm) that I will faithfully execute the Office of President of the United States, and will to the best of my ability, preserve, protect and defend the Constitution of the United States.

By sending — literally — brownshirted enforcers to engage in — literally — a midnight knock at the door of a man for the non-crime of embarrassing the President of the United States and his administration, President Obama violated that oath. ... It is a betrayal of his duties as President, and a disgrace. ...
See also
, and how
the US government and MSM are lying to us
.
[
via
]
Update
: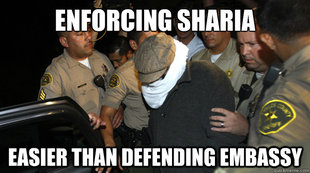 More
.